Monster Mash!
Monster Mash!
11 October 2016 (by heptonstall)
Tickets now on sale for the Spooky Halloween Disco!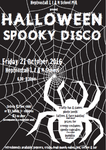 The Halloween Disco year will be held in the school hall on 21st October 6.30-8.30 pm tickets are available to buy at the School Office or on the door on the night.